Meet our newest trainer Mary Hendricks
First of all, let me start off by saying hello and welcome to all who are tuning in to check out our very first post! Everyone at Phoenix is super excited to be able to get this up and running so that we can better reach, educate and of course, entertain new and current members.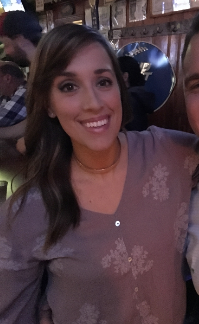 With that being said, I want to introduce myself, the writer of this first post. My name is Mary Hendricks and I am the newest addition to the Phoenix Team! As a fellow resident of Milltown, I am beyond excited to be able to join such an amazing crew of individuals and continue a career in personal training in the town I call home.
I didn't always work in the fitness industry, in fact after attending college at Purdue University, I jumped into the world of Pharmaceutical Marketing. And well…as you might have guessed I absolutely hated it and wanted to find a career with passion. Lucky for me, the universe must have received this message by presenting me with a lay off and gave me the opportunity to take a leap into a career I was always too nervous to try but have always loved.
I've always loved working out but unfortunately for many years, I didn't use fitness to my benefit and did not treat my body in the best way possible. Like many other teen girls, I struggled through high school and college with poor body image and disordered eating. I'd go through cycles of binges and cycles of starvation. I was either "all in" or "all out," finding it very difficult to find an even balance between loving life and staying healthy.  However, after many years of ups and downs, I was able to slowly teach myself a better understanding of how nutrition works and not too long after was entering the weight room at the gym.
For the past 2 years, I had the pleasure of working at a private personal training gym located in Somerville New Jersey. While here, I was able to grow as a personal trainer and group class coach, receiving the most outstanding education and experience. I was able to work with various people of all ages and fitness levels and help each of my clients reach their individual health goals. It was truly an experience I will never forget but I can not wait to share my knowledge with the Phoenix community.
Using my past personal and professional experiences along with my education, I like to describe my training style as fun, interesting and always informational. I'm a stickler for form and always make sure to scale appropriately to each client. However, I also enjoy pushing each of my clients appropriately to leave their comfort zones and try something new. I know working out isn't always the most fun thing to do and can suck sometimes. Trust me, I feel that way A LOT myself. But I believe that those instances are the very ones that make the difference. Those instances are the moments that I believe dictate your success or failure in all you do, even outside of health/fitness.
So now knowing my background, I'm sure you all are asking about what certifications I have. Currently I am certificated through NASM, the National Academy of Sports Medicine. Additionally, I also have a certificate of specialization in both Pre & Post Natal Corrective Exercise through Fit For Birth. In fact, this specialization is one I am truly becoming passionate about expanding and would love to welcome any women who is planning to become pregnant, currently is pregnant or has had a baby.
I truly cannot express how thrilled I am to start my next career chapter at Phoenix. I look forward to meeting all of the Phoenix Community and helping each person get one step closer to their health and fitness goals and ultimately transform their lives for the better.